Share this URL: https://archicraft2018workshop1.peatix.com/
Event is FINISHED
ARCHICRAFT 2018 | Your Expressive City Sketch | 29 Sep
WHAT IS YOUR EXPRESSIVE CITY SKETCH?
Your Expressive City Sketch focuses on the charcoal city sketching where participants are to experience a traditional medium, the willow charcoal. Sketching using charcoal will enable participants to reimagine and add and subtract things out of the imagery they are creating. The idea is to expand the idea of expressive sketching. Zhi Fei, is the instructor of this workshop.
The session will end with a sharing session where the participants displaying their finished products, and feedback will be shared by both participants and the instructor.
INSTRUCTOR
Zhi Fei
Zhi Fei has been interested in art and drawing for many years, and is currently actively involved in several local art and watercolour groups. Since 2004, he has also taught drawing and watercolour courses. Zhi Fei's work has been recognised and awarded at several junior national art competitions, and he has exhibited locally and abroad together with the Pachui Art Society, the Scenic Rangers, the Singapore Art Federation, the Singapore Watercolour Society, and the China Shantou Watercolour Society.
WORKSHOP DETAILS
Venue
: Fullerton Hotel Singapore, Entrance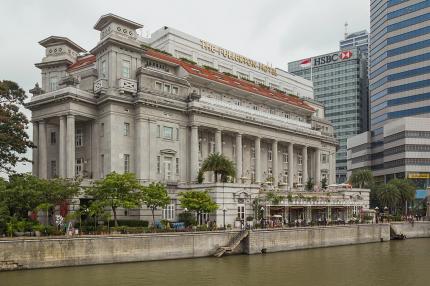 (Image from Wikipedia)
Meeting Time
: Please meet the workshop leader at
9
:50AM
(10 mins before the start of the workshop) as you will be proceeding on foot, as a group, to the sketching venue.
Attire
: Comfortable clothing and footwear suitable for outdoors. Hat or cap, is recommended.
Equipment
:
1) Umbrella 2) Sketching materials including pencil, waterproof pen, drawing board, paper and willow charcoal will be provided
UPDATE - S$45 includes all sketching materials
Sale of tickets will close a day before the scheduled workshop or until tickets are sold out.
WHAT IS ARCHICRAFT?
Archicraft in Archifest 2018 is a series of curated workshops, organized in carefully curated architectural space or buildings, that provides the opportunity for participants to delve into a variety of disciplines in society and their interaction with architecture. These series of workshops are aimed at empowering participants to adopt an active role in becoming 'agents for change' in our living environment.
There is a total of 5 workshops to choose from; from learning how building pollutants affect the environment to learning how to compose a thought-provoking architectural photograph or even to growing your very own personal 'farm'.
Proudly curated by the architecture student society of

Singapore University of Technology and Design

(

SUTD

) Architecture Student Society (

SUTDIO

).
Disclaimer for Archicraft
Indemnity

: By buying and participating in the Archicraft workshops, you are deemed to fully accepted all SIA/Archifest/Archicraft's terms and conditions.
You agree to indemnify, defend and hold SIA and its affiliates, and their respective staffs, owners, agents, information providers and licensors (collectively, the "Indemnified Parties") harmless from and against any and all claims, liability, losses, costs and expenses (including attorneys' fees) incurred by any Indemnified Party in connection with any breach by you of these Terms and Conditions and Privacy Policy.
Responsibility

: SIA also reserves the right to terminate workshops for any participants at any time for good cause. SIA cannot be held responsible for any mistake that might occur in typography or printing.
Transportation

: Chartered transportation is not provided for any of the workshops.
Etiquette

: Please maintain social etiquette at all times during the workshops and to treat fellow participants, including any instructor, guide, Archifest volunteer with courtesy and respect. SIA reserves the right to request a participant/ participants to leave, if he/ she/ their behaviour is seen to be unruly and disrupts the workshops.
Smoking/Liquor

: Smoking and consumption of liquor are not allowed at the venue of Archicraft workshops.
Refund policy

: There is no refund for no-shows.
Accident or Loss

: Participants are to take care of their personal belongings at all times. SIA will not be liable for any loss, damage, delay, inconvenience, or direct or consequential loss, however caused.
Jurisdiction

: These conditions shall in all aspects, be governed by the law of Singapore.
read more
Updates
The event description was updated. Diff#373898

2018-09-28 07:51:22
More updates
Sat

Sep 29, 2018
10:00 AM
-
1:00 PM
SGT
Add to Calendar
Venue
Tickets
Venue Address

1 Fullerton Square

Singapore
Organizer
Want to find more groups and events like this?